There for you at 30 locations
Pfando is here for you!
Should you have any questions, or would you like to make an appointment? You can reach our friendly customer service personally every day of the week.
Pfando is here to help you – fast, fuss-free, non-bureaucratic payouts between €500 and €500,000 without a credit check or proof of credit. 
Make an appointment
Pfando in numbers
Since its founding in 2010, Pfando has become the definite market leader.
More than 100 employees at over 30 locations all over Germany ensure that our customers get perfect service anytime.
We're also looking forward to convincing you of our company's quality.
Speed is our forte
If you make an appointment before 5 p.m., you'll get your money on the same day—guaranteed.
An appointment at one of our branches is never longer than 60 minutes.
If you wish, payouts can be made as instant payments to your bank account, taking only seconds, or in cash.
Make an appointment
For business customers also
Thanks to Pfando: Fast liquidity with nonstop mobility
Pfando's innovative sale-and-rent-back contract is the perfect solution to provide liquidity on short notice for business customers.
In contrast to classic pawnshops, Pfando's customers don't have to relinquish their cars. Instead, they can continue driving them as usual.
On top of that, all incidental costs are tax-deductible. Our short contractual periods offer the highest flexibility possible.
Make an appointment
FAQ
Most frequent questions
Contact
Please fill out the form.
We will get back to you promptly afterward.
Contact
Please fill out the form.
We will get back to you promptly afterward.
Do you have any further questions?
We're happy to assist you.
Pfando's huge advantage compared to common auto pawnshops
Get cash for your vehicle immediately and continue using it instead of lending money on it. At Pfando's, our trained personnel will give you a professional individual evaluation of your vehicle for free, as well as the best conditions—guaranteed.
Make an appointment
Innerhalb von 60 Minuten Bargeld erhalten und das Auto weiterfahren
Sofort Geld (noch Heute)
TÜV zertifiziert
Höchste Auszahlungssummen
30 Standorte in Deutschland
Die Kredit-Alternative – ganz ohne Schufa
Geschulte Kundenberater
Vor Ort und telefonisch immer für Sie da
Geprüfte Verträge
Make an appointment
Navigate financial straits easily with Pfando
Since its foundation in 2010, Pfando has become the cash & drive market leader with the sale-and-rent-back concept and over 40,000 satisfied customers. Our concept allows individuals in financial straits to get fast cash for their vehicle while continuing to use it. The sale-and-rent-back concept is an excellent alternative to common pawnshops and bank loans: Get cash in only 60 minutes with no credit check and keep driving the vehicle as usual!
Cash & Drive on—The sale-and-rent-back concept
We help you out of financial straits and allow you to stay mobile! Unlike a standard auto pawnshop, where you have to leave your vehicle behind and pay storage fees, we provide you with same-day cash and the option to keep driving. Save yourself unnecessary costs for storing your vehicle at the auto pawnshop and make use of Pfando's drive-on option!
What exactly does sale-and-rent-back mean? It's simple: We buy your car, and you rent it back from us. This is what distinguishes us from a classic auto pawnshop. Thus, our offer comprises a sales and a rental contract. Based on an evaluation by our specially trained staff, we make you an offer with the best conditions—guaranteed. If in doubt, bring us offers from other companies—we'll give you a better one!
After an assessment of your vehicle—no matter if it's a passenger car, truck, bus, motorbike, vintage car, RV, agricultural vehicle, or sedan—we'll tell you which sum can be paid out following the evaluation. It's your decision now if you want to accept our offer and how much time for consideration you need. Enjoy full flexibility: full mobility, no hidden costs! After the first month, we even calculate costs as exact as per day. We buy your car—and you get cash in 60 minutes. Thus, you're solvent again and can keep on using the car.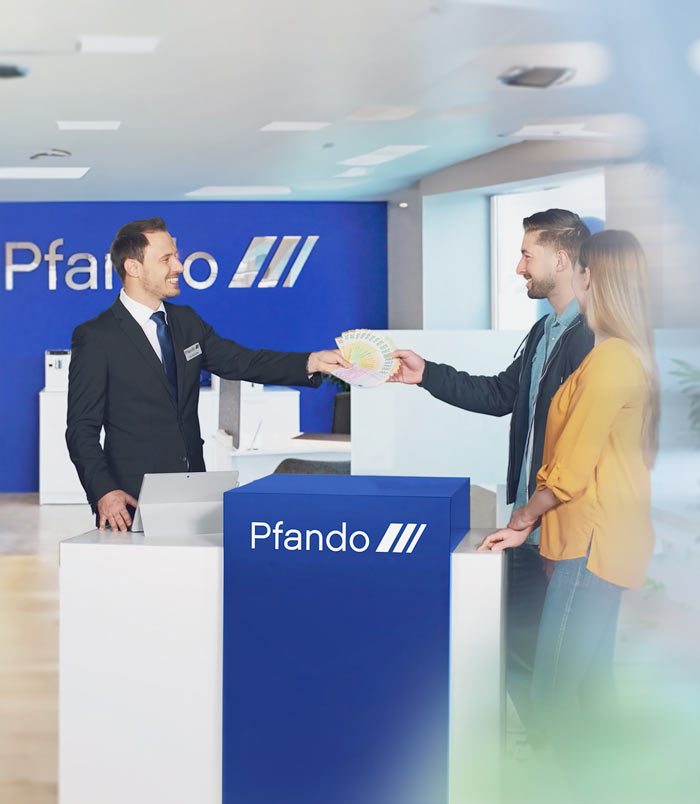 The alternative to a loan with no credit check: Immediate cash and keep on driving the car
You're looking for an alternative to a loan without proof of income or credit check, and a better option than an auto pawnshop? Choose the fair and fuss-free Pfando solution! We listed everything you need hereafter.
Better than an auto pawnshop: Get cash for your car now and stay mobile
Do you still have questions, or are you uncertain about your vehicle's value? We're here to help you determine your vehicle's value—whether a company car, RV, vintage car, truck, motorbike, or the like. Save yourself the hassle of a common pawnshop—just lay your trust in Pfando, the cash & drive market leader.
Don't hesitate—make an appointment at one of our 30 locations!
Make an appointment